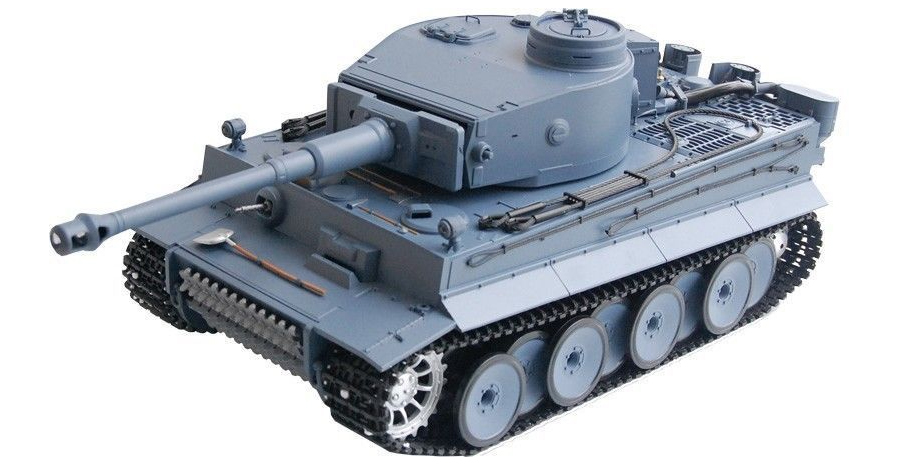 Heng Long Tiger 1 RC Tank 2.4ghz 1/16th Scale
RC Battle Tank "Tiger 1" Panzerkampfwagen VI Sd.Kfz 181 Ausführung E Early Version (Heavy Tank) 2,4 Ghz Version.
Through his chain drive the tank is off-road capabilities, the maximum slope angle is 35 °. This Tiger tank is equipped with two spotlights. The tower can be turned using the remote control to 320 °, the gun can be raised and lowered. With the launch buttons up to 65 balls can be fired individually. The ammunition has a range of about 25m. All rollers are fully suspended! Realistic smoke from two mufflers at the rear.
Remote control of the newest (3.) Generation. Control of the smoke function and the volume directly on the remote control!
Compared to the standard version, the 2.4 GHz version has greater range, automatic channel assignment and no interfering antennas at remote and tanks. In addition, volume and smoke function can be controlled directly on the remote control.

Smoke: for realistic engine operation, with smoke from the mufflers
Sound: Start and run the engine, machine-gun and cannon shot


Technical specifications:
Model: RC tank Tiger 1 No. 3818-1 with smoke, sound, shot function
Manufacturer: Heng Long
Scale: 1:16
Climbing capacity: 35 °
Chains: Plastic
Gearbox: Plastic
Chains: 4.5cm wide, wheels full suspension
Drive: 2x electric motors 8500 U / min
Charger: 7.2V-400mA
Power Supply: 7.2V 2000mAh
Charging time: about 4 hours
Journey time: about 30 minutes
Lighting: 2 frontlights
BB shot function
Capacity ammunition chamber: 65 balls (6mm)

Remote Control: Forward / Reverse [proportional], forward left or right rotation [proportional], reverse left or right turn, raise and lower gun turret to 320 ° rotatable (160 ° right / 160 ° left), ammunition shooting even while driving, recoil simulation while shooting
Frequency: 2.4 GHz frequencies. So that you can go with several tanks simultaneously and without interference (up to 50 tanks).



Scope of supply:
RC tank Tiger 1 with smoke, sound, shooting function
Multifunction 2.4GHz remote control (requires 6x AA LR6 batteries, not included!)
1 x 7.2v 2000mAh Battery
Charger 7.2V-400mA
ca. 200-230 shot 6mm ammunition
Target
Sticker Set
Small parts / accessory / soldier
1x oil smoke (25 ml)
Operating instructions