sorry, we have discontinued our partnership with CL*RK and will stop selling TK boards effective immediately.
These are our current remaining stock and once gone, no more will be available.
TK6.0 Series Tank Controller
TK6.0 series RC tank Controller
Turn your V5.3 and earlier Henglong tank into proportional radio control and decent sound in 10 mins.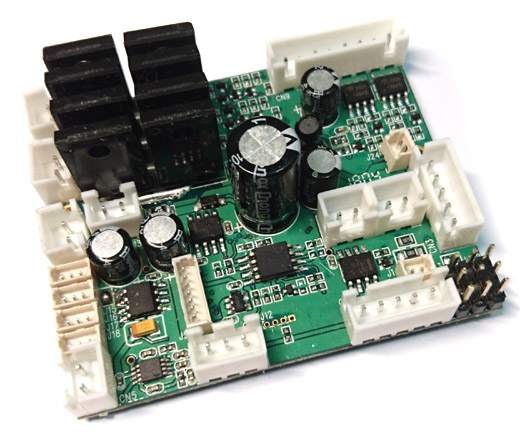 Overview

TK6.0 series controller uses 4-CHconventional PWM or 10-CH S.BUS RC system to control R/C tank's forward/backward movement, sharp turning, pivoting, turret rotation and gun barrel evaluation at variable speed

Plug and Play for Henglong V5.3 and earlier

Ultrasonic ESC*3 for two track motor and turret rotation

Carefree reversing

Ultra Low turn-on resistance FET for track motor ESC

22KHz, 8-bit high quality sound with digital sound mixer

Maximum of 5 channel of sound track, main gun, machine gun, turret rotate, gun barrel elevation and engine sound can be generated at the same time

3W sound output power

0.8A BEC

EPM*2 for gun elevation(EPM1) and turret rotation/gun traverses(EPM2)

Wide operating voltage rage, from 7.2 to 12V, support 3S Li-Po battery

Support air-soft gun with sound synchronization

Support TAMIYA IR battle code

Support RealRecoil servo port

Safety shutoff prevents unwanted movement while signal lost

Auto R/C signal detection

Miniature design(60mm X 50mm X 20mm) for 1/25~1/16 R/C Tank

V1 Engine Sound Simulation
Device

TK6.0

TK6.1

TK22

Remote Control System

Traditional 4-CH AM, FM or 2.4G RC system

2.4G RC system

with S.BUS

Traditional 4-CH AM, FM or 2.4G RC system

Control Scheme
4-CH
S.BUS 10-CH
4-CH

TAMIYA IR battle

Compatible

YES

YES

YES
Cannon Reload Time
3, fixed
3, fixed
Programmable
Lives
6, fixed
6, fixed
Programmable

HL IR battle

Compatible

NO

NO

YES

VsTank IR

battle

Compatible

NO

NO

NO

TAMIYA 1/35 IR battle Compatible

NO

NO

NO

Damage Simulation

on track

NO

NO

YES

Damage Simulation on turretrotation and gun elevation

NO

NO

YES

Longrange IR battle

(>30M)

YES

YES

YES

Engine Sound

Simulation

V1

V1

V1

Neutral Gear

NO

NO

NO

Sound set for

specific tank model

>20 types

>20 types

>20 types

Track driver

Current

20A/60A*

20A/60A*

20A/60A*

Track driver

Momentum Effect

with ON/Off Control

NO

NO

YES

Turret Rotation Speed Control

YES

YES

YES

Gun Elevation Speed Control

YES

YES

YES

Gun Elevation Servo Port

NO

YES

YES

AUX Power/Motor Control

NO

YES

YES

2nd MG sound and Light effect

NO

NO

NO

AirSoft with Sound Synchronization support

YES

YES

YES

HLRecoil Unit support

NO

NO

YES

TAMIYARecoil Unit Support

NO

NO

YES

Smoker driver

YES

YES

YES

Proportional Smoker driver

No

No

No

Head Light on/off control

YES

YES

YES

Tank Personalization

YES,Simplified

YES,Simplified

YES

LED GUN FLASHER Port

YES

YES

YES

ChassisRecoilOn/Off

Control

YES

YES

YES

Auto Load Position

NO

NO

NO

Engine Deck Level Detection

NO

NO

NO

Kit contained

TK6.0 board*1,

RXcable*4

TK6.0S board*1,

RXcable*1

TK22 board*1,

RXcable*4

Price

(USD)

$50

TBD

$90~110

Release Schedule

2019, July

TBD

Released
*W variant
Side-By-Side Comparison with Henglong TK6.0




CLARK

Henglong

6.0

6.0

Remote Control System

Standard PWM/ S.Bus Hobby RC

Proprietary 2.4G

ELECTRICAL CHARACTERISTICS

Max. Track driver current

20/60A

60A

Max. turret/gun elevation driver current

7A

2A

IR Battle Related

TAMIYA IR Code

YES

YES

Fire rate

3 seconds,fixed

3 seconds,fixed

Lives

6, fixed

6, fixed

Re-birth time

6 seconds, fixed

??

Damage Simulation on track speed

NO

NO

TrackRecoil Strength Adjustment

YES, 8 Level

YES, 3 Level

Sound Effects Related

Seamless Mxer
YES
No, engine sound restarted when other sound effect is palyed

built-inSound set

1,

More then 20 tanks sound sets can be selected

4, fixed

Incoming sound

Yes

??

Reload sound

Yes

??

Audio Amplifier

3W

??

Peripherals

ServoRecoil

NO

NO

Servo Elevation

NO

NO

Price

Listed Price

$50 for board

$42 for board,

$40 for transmitter
Side-By-Side Comparison with Henglong TK6.1




CLARK

Henglong

6.1

6.1

Remote Control System

Standard PWM/ S.Bus Hobby RC

Proprietary 2.4G

ELECTRICAL CHARACTERISTICS

Max. Track driver current

20/60A

60A

Max. turret/gun elevation driver current

7A

2A

IR Battle Related

TAMIYA IR Code

YES

YES

Fire rate

3 seconds,fixed

3 seconds,fixed

Lives

6, fixed

6, fixed

Re-birth time

6 seconds, fixed

??

Damage Simulation on track speed

NO

NO

TrackRecoil Strength Adjustment

YES, 8 Level

YES, 3 Level

Sound Effects Related

Seamless Mxer
YES
No, engine sound restarted when other sound effect is palyed

built-inSound set

1,

More then 20 tanks sound sets can be selected

4, fixed

Incoming sound

Yes

??

Reload sound

Yes

??

Audio Amplifier

3W

??

Peripherals

ServoRecoil

YES

YES

ServoRecoil

direction reverser

YES

??

Servo Elevation

YES
YES

Servo Elevation

direction reverser

YES

??

Price

Listed Price

TBD

TBD