TK40 Series Tank Gamming Controller
TK40 series RC tank Gaming Controller
World's First integrated RC tank controller with Ultrasonic ESC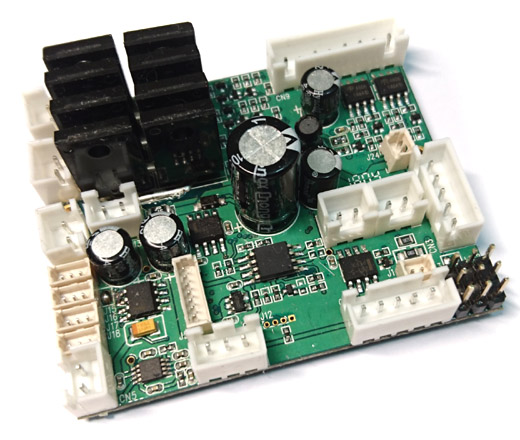 THIS IS NOT 100% PLUG AND PLAY BOARD, SIMPLE CHANGE IS NEEDED FOR FULL OPTIONS
(specifications and design are subject to change without notice)
Overview

TK40 series controller is the successor of successful TK24 controller, uses 4-CH conventional PWM or 10-CH S.BUS RC system to control R/C tank's forward/backward movement, sharp turning, pivoting, turret rotation and gun barrel evaluation at variable speed

Ultrasonic ESC*3 for two track motor and turret rotation

Carefree reversing

Ultra Low turn-on resistance FET for track motor ESC

22KHz, 8-bit high quality sound with digital sound mixer

Maximum of 5 channel of sound track, main gun, machine gun, turret rotate, gun barrel elevation and engine sound can be generated at the same time

3W sound output power

0.8A BEC

EPM*2 for gun elevation(EPM1) and turret rotation/gun traverses(EPM2)

Wide operating voltage rage, from 7.2 to 12V, support 3S Li-Po battery

Support air-soft gun with sound synchronization

Support TAMIYA and HLIR battleunit andformat

Support RealRecoil servo port

Support RecoilSolenoid for 2nd Machine Gun( MG2 )

G variant Support gun barrel stabilizer

Safety shutoff prevents unwanted movement while signal lost

Miniature design(60mm X 50mm X 20mm) for 1/25~1/16 R/C Tank

V2 Smoker driver

Adjustable Low Battery threshold
Terminology

Ultrasonic ESC is the ESC block which switch FET at ultrasonic speed, make motor rotation extreme smooth and quite. start voltage of ESC can also be adjusted for different type of motor.
Carefree reversing:Unlike some other control board, there is no need for TK series board to delay before being commanded to reverse,can go from full forward immediately to full reverse or vice versa
EPM ( ESC/PWM module)is peripheral which can be switched to ESC or PWM mode,allows the user to drive brushed motor or servo motor, in ESC mode, ESC port is enabled, can be used to drive brushed motor, In PWM mode, PWM port is enabled to driver servo motor, sound effect stopped when servo motor reach end point, TK40 has 2 EPMs for gun elevation(EPM1) and turret rotation/gun traverses(EPM2),
EPM No.

ESC/Ultrasonic ESC port

PWM port

EPM1
5th and 6th Pin of CN9
J4

EPM2

7th and 8th Pin of CN9

Note:ESC in EPM2 is

Ultrasonic ESC

J5
RealRecoil allows you to recreate real gun barrel recoil movement with single & cheap servo motor
RecoilSolenoid allows you to recreate MG/Auto cannon barrel recoil movement with Solenoid
V2 Smoker driver smoker fan/compressor speed is proportional to engine RPM and Load
V2 Mixer turning is achieved by reducing track speed and also increase opposite track speed to achieve smoother turning.
Adjustable Low Battery threshold cut off ESC output when battery voltage is lower than threshold, and threshold can be adjusted according to type and cells

please note:
volume control is not included. We will provide you with a 3p jumper, which makes it maximum volume.
we sell this here: https://www.rctanklegion.com/products/volume-control-complete-kit-plug-and-play-for-tk-boards
HL version 6.0/6.1 tanks:
you will need some parts as HL omitted and changed the wiring harness.
1) 8p daughter board + 8p wire
2) 2p x 3 to plug into TK board for battery power, and 2 motors.
PLEASE SPECIFY YOUR TANK SOUNDSET IN YOUR ORDER NOTES

more information:
http://www.clark-model.com/eng/prod_rx40/index.html